As the name implies "FitPlan" is a mobile fitness application for training and exercising. Instead of paying hundreds of dollars to fitness training coach, fitplan helps to achieve your training goals. This app is helps you to maintain your wellbeing by providing resources, direction, and accountability throughput your fitness journey.
Fitplan is a dynamic mobile app that encourages members of her community to develop their full potential. They're are driven by a love for encouraging others to achieve their objectives and opening the door to outrageous fitness aspirations.
By getting rid of the intimidating nature of athletically sculpted bodies and replacing it with clarity regarding on how its users achieve this journey step by step. They teamed up with elite trainers at the top of their game through Fitplan. In addition developed a means for them to share their precise training strategies. Through their programming, users are given the exceptional opportunity to train alongside their desired body. Paving the way for a healthier and fitter future.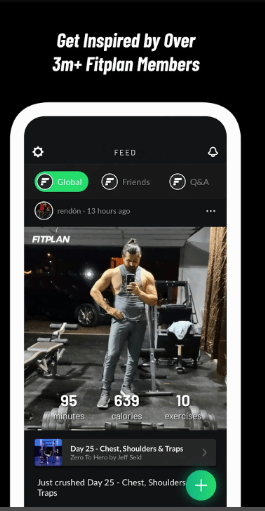 Pros of Fitplan App
All of the instructors are top-notch, with a variety of personalities and accents.
There are workouts and regimens with varying lengths to accommodate different fitness levels.
Numerous of the routines require little to no equipment, while some are appropriate for gym members.
There are plans for bodyweight exercises, kettlebells, joga, skipping (with the Jump Rope Dudes), and more.
There is a Facebook support group for Fitplan.
A brand-name online store offering shaker bottles, sliders, foam rollers, and resistance bands.
Cons
Many regimens are difficult, so start with a light weight to avoid injury and the dreaded DOMS.
The software doesn't include a nutrition plan or recipes, but the development team is working on adding these in a future update.
They have different plans and prices that you can choose from after registration to get you started.